Top 6 horror home decor items for decorating your crypt this season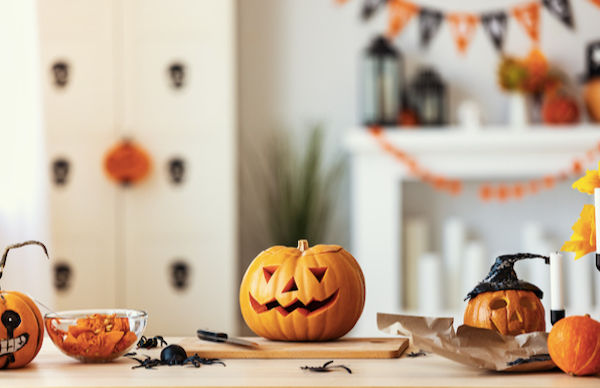 There is an abundance of horror home decor items on the market as the days creep closer to the Halloween season. So, since October onwards is a time when spooky and ominous become part of everyone's lives, if you haven't already, it's time to decorate your crypt to start participating. Here are six horror home decor items that will turn some heads!
Haunted House Sidewalk Sign Set ($3.99)


Offering up three threatening sayings—"KEEP OUT", "GO BACK", and "GO AWAY"—this set of rustic, wooden signs is the ultimate horror home decor! Whether you decide to place them out on your porch for the trick-or-treaters or prefer to position them around the interior of your home to send a message to other dwellers, this Haunted House Sidewalk Sign Set will look eerie wherever it sits! 
Halloween 2018 & Trick R' Treat Light Up Pumpkins ($24.99 each)
Something is chilling and oh-so-cozy about pumpkin horror home decor. As a must-have decoration for the fall into the Halloween season, these two collectibles are stocked and ready to compliment your crypt. The Halloween 2018 Light Up Pumpkin is a great prop for fans of the franchise, as it is an exact replica of the jack-o-lantern that Dave gives to Vicky the babysitter before Michael strikes in the 2018 film. The Trick R' Treat Light Up Pumpkin is another genre favorite, as it features Sam's iconic visage that is unmistakable to fans alike.
Both items are available on October 10th and will be shipped right away! 
Animated Horror Home Decor Items ($24.99-$89.99)

There's nothing more spooky in the world of horror home decor than something that exhibits true realism. This can be found among our animated horror home decor items! The Animated Crawling Severed Hand performs and looks as its name suggests, so be sure to put it somewhere that it won't squirm away. Then, there's the Animated Moving Books prop which features detailed horror-inspired names by some truly frightening authors. Lastly, the Animated 8.5 ft Tall Airblown Scary Cat is a sight for grim eyes! With the likelihood of this prop hardly fitting in your indoor space, it will bring devilish mystery to any porch or deck area. It's time to get superstitious.
Which horror home decor items get your black heart pumping? Drop a comment below to let us know.